I'm a 9 year survivor of Testicular Cancer! Welcome To My Website!
About Steve Pake.com
I was diagnosed with a Stage IIB Non-Seminoma Germ Cell Tumor (90% Embryonal Carcinoma, 10% Yolk Sac, no Teratoma) back in February of 2011 at the age of 33, and thought my life was over before I had even truly started living it. This is my story of life as a young adult cancer survivor.
I went through EPx4 chemotherapy followed by the RPLND surgery and thought I was all done, only to be completely blindsided by all of the challenges of life after cancer. I was afraid for my life through every ache, pain, and surveillance scan, suffered from anxiety that I didn't know how to deal with, depression when I had never been depressed before in my life, and also suffered from PTSD that was so bad that I had contemplated suicide at one point. Imagine surviving cancer and being a hero in the eyes of many, only for the rigors of life as a young adult cancer survivor push you so low that you were ready to end it all. That was me just yesterday. All this from a highly curable "good risk" cancer with a 90%+ cure rate. There is no easy cancer.
It was only through the support of my wife, the love of my family and some truly amazing friends, that I managed to find my way back through all of this. Although I still had a long ways to go, I was inspired to start writing and sharing my story with the world, and the result is the award-winning website that you're reading now. Testicular and young adult cancers are exceedingly rare life experiences to have, and younger men especially can have trouble finding the support that they need, and coping with terrible emotions that they never knew they had. Many suffer in silence as a result, and that's why I do what I do. My website and writing has saved lives.
No matter what someone might be facing, I want them to know that they're never alone, and that yes, even invincible young men like yourselves can be feeling what you've been feeling after cancer. I'm here to help fellow survivors find their paths forward.
Cancer Blogs
I've done a ton of writing about cancer over the years, over a hundred thousand words worth! From dealing with anxiety, depression, PTSD, and so many mental health issues, to the physical challenges of life as a young adult cancer survivor, there's few bases I haven't covered, and they're all here for you.
The first link below is my manual archive page through which you can search everything. The other links below cover my most recent cancer blogs, which have slowed to a trickle at 8 years out, and then a few pages that contain a collection of my blogs on various topics. My Testicular Cancer Awareness Month blogs are a collection of blogs for both patients and survivors and the public that I like to try to share every April, to help educate the world both about Testicular Cancer, and what young adult cancer survivors face in the aftermath. The last link is a page that contains just my essay series about PTSD after cancer, which is some of the most difficult writing that I've ever done. Many of us experience this, and it can easily be worst than cancer itself, because we have no idea what we're even up against, or how to fight back. These essays have saved lives.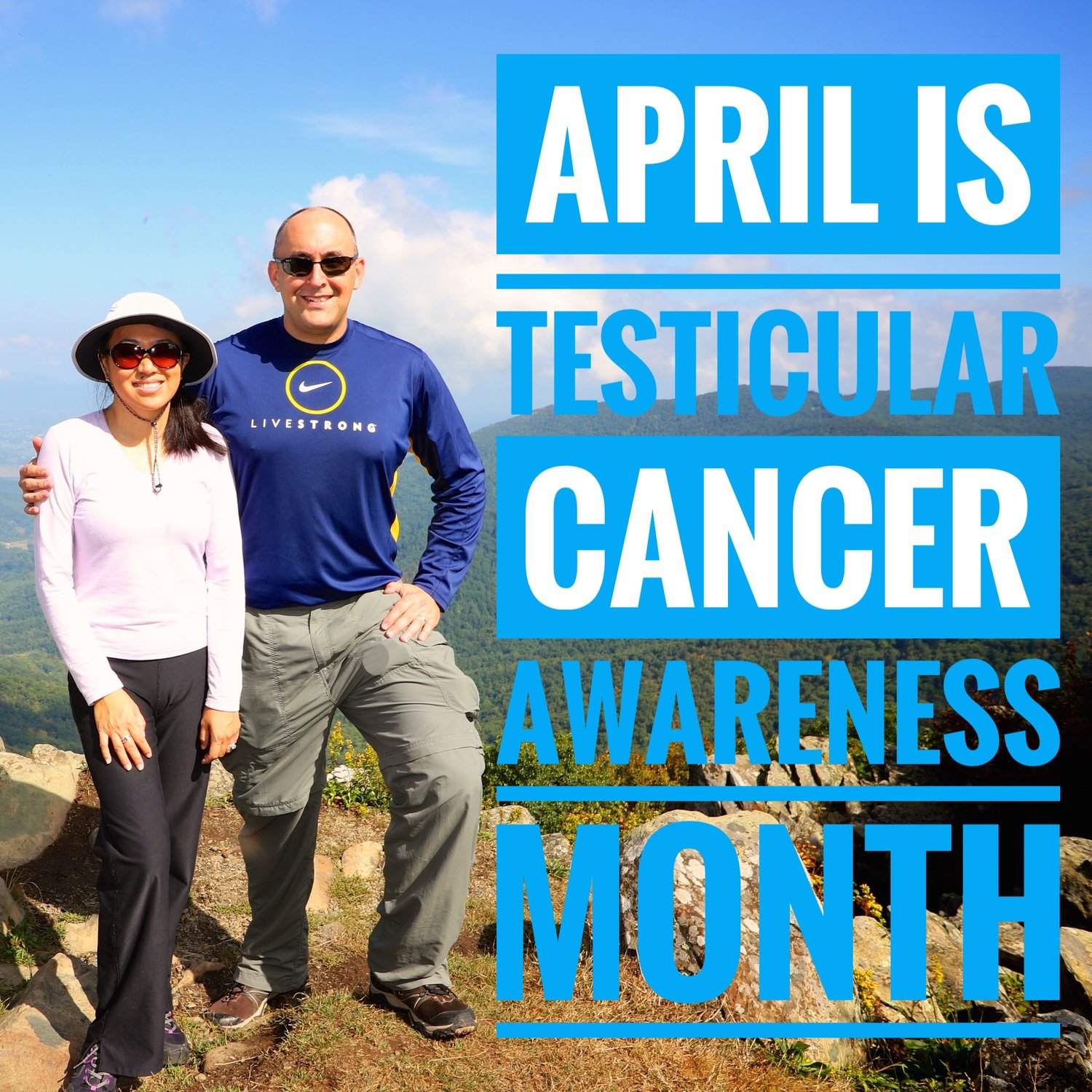 This is my series of essays on post-traumatic stress after cancer, which I began experiencing in December of 2012, just short of two years after my cancer diagnosis. Overcoming PTS/PTSD after cancer is the most significant challenge that I've faced not just through my cancer experience, but in all of my life.
For Wives, Moms, girlfriends, Caregivers, And Loved Ones
It's funny that I end up talking to more women about testicular cancer than men. It's highly likely that your male species loved one is going to internalize everything, and that they won't have even the slightest clue about what they're feeling, how to deal with it, or how to even express it, much less admit to anything at all. Men are just socially conditioned to never show any emotion, but we all feel the same things inside regardless of gender and so many other made up differences. Our humanity binds us regardless of race, gender, skin color, wealth, religion, upbringing, or anything else. I honestly feel as though this is an evolutionary trait of human beings as a whole as well, to always appear "strong" to the outside world, even as we're crumbling inside. I'm a Scorpio. I've always felt things ten times stronger than most, so when the fit really hit the shan, I had to find an outlet for everything that I was feeling inside, because otherwise I was going to blow. That's the kind of energy that I put into all of my writing.
If you find something on my website that you think might help your loved one, send it to them. They might just read it, and even if they don't say anything, it could help find their way. Often times, just knowing that they're not alone is all they might need. Once in awhile I hear back from your loved ones, and it's a blessing to know that I've helped pull more than a few people out of some very deep and dark downward spirals with my writing.
Testicular Cancer Summit of 2017
In 2017, I Co-Founded and Chaired the Testicular Cancer Summit with fellow 44-year testicular cancer survivor Ron Bye, which was the first time that doctors, patients, survivors, caregivers, and advocates from all over the world assembled for an incredible weekend under one roof.
I managed to meet Ron by pure chance all the way around the world in Singapore or all places! Little did either of us know at the time that we had both long aspired to put together a national or even international testicular cancer event for survivors everywhere. When Ron called me a few months after our chance encounter about doing something like this, not only did he have me at hello, but we immediately found ourselves completely on the same page as the other, as we had both had already put so much thought into this long before we had ever met! What an amazing synchronicity! Together we developed this first international and independent Testicular Cancer Summit event, open to all, and with the help from the amazing team that we put together from across the testicular cancer community.
The first Summit was a success beyond anyone's wildest dreams, and was so much greater than the sum of all of its parts. The Summit lives on under slightly different name(s) and management today, and even though neither of us are involved or attend, you should definitely plan to go to at least one of them sometime if you can.
It was a great honor to have evolved our entire community with these events for the sake of all we serve past, present, and future.
Fun Things And Other Interests
I purposely self-named my website and didn't give it a testicle or "ball" theme, as I never wanted it to be about just cancer, because how depressing would that be? My website isn't just an award-winning cancer blog, but a blog about life and living it as well.
It doesn't matter if we had a "good cancer" (there's no such thing), nor how good our prognosis might. As young adult cancer survivors, we never really feel like we have more than about a 50/50 chance of making it, and I felt that way for years even with everything in my favor. It's only since I've turned 40 that I've started to believe that maybe I'll be around for a little while longer. It's important for all of us to get out there and live our lives to the best of our abilities and the best we know how, to enjoy our friends, families, and loved ones, and to try to make a difference in the world in some way, because in the end those are the only things that are going to matter. Did you love, were you loved in return, and did you make a difference? That's all it is, so get after it!
Life is crazy, and human beings are especially crazy, and sometimes I write about the insanity of the world we live in in the "Life" section of my website. Warning. It's unfiltered, not politically correct, and commonly loaded with f-bombs.
I'm a "big time" photographer, have an entire cabinet full of high end camera bodies and lenses, and sneer at even the latest iPhone 11 Pro triple cameras (pfft!) I'm usually too busy shooting to ever write about photography much, but occasionally I get a blog up, which you can check out in my Photography section. The real place to check out my photography are in the yearly "2019" type pages, which are pages of photo albums from the year for friends, family, and readers to check out and enjoy.
We've also become dog owners as of December 2017, when we brought home an adorable mini Goldendoodle puppy! He's "all growed up" now, and has been an amazing addition to our family, but I have a few pages for him too, and try to put some new photos up of him every once in awhile.
My Social Media Pages
I'm not really "on" social media anymore
I'm not really "on" social media anymore and have pulled the social media links from my website, as I don't want people to try to contact me there. Not only is there absolutely zero privacy, but I personally have huge problems with these social media companies scraping literally everything we say and even things that we don't all for advertising, profiling us, and making a buck.
I've talked to people that have contemplated suicide, that have suffered from PTSD, that have had sexual dysfunction after testicular cancer, or who have been through other completely horrific episodes in life. These are all deeply private and personal topics that's no one else's business but my own and whomever I happen to be interacting with. The social media companies admit that we have no expectations for privacy on their "platforms", and that they're scanning literally everything, including our direct messages! I'm sorry, but this is just a total non-starter for me not just for myself, but to protect the people that reach out to me looking for support from exploitation by these companies.
Not only that, but heaven forbid you're not an uuuber-liberal that's hard-wired to think just like they do in Silicon Valley (I'm not — sorry not sorry, get over it), and dare to wrongthink as a result, they'll delete or lock you out of your page on a whim, often without explanation, and I just can't justify sinking so much time and effort into social media pages and accounts anymore. These are not "platforms" for all anymore, and are now even claiming in lawsuits that they're actually "publishers" with a right to cancel anyone they want! Social media has become totally absurd.
As of October 2019 as I'm writing this updated About page, I'm still waiting for the next best thing as far as social media and how we all communicate to come along, so I'm largely just sticking with my website for now and not doing much on social media at all.
That said, social media is just how everybody communicates these days, so if you must….
My Social Media PageS
My Facebook page is the only one where there's any activity at all, and if it weren't for this page and outreach into a few cancer support groups, I'd probably have completely deleted my entire presence on Facebook as a whole.
StevePake.com: The Life of a Young Adult Cancer Survivor on Facebook.
I have an Instagram page also (@yacancerbysteve), but don't follow me there. My Facebook page is the only one that I keep active, as it's much easier to share links and articles and whatever else I'm up to there than on Instagram. While I often don't have time to respond individually in the below support groups any more, if I see that a topic has come up that I've written about in the past, I'll re-share it to my page, so definitely give my Facebook page a follow.
Testicular Cancer Support Groups
I'm an Admin at both of these groups, so can vouch for them. The Facebook group is at least a closed group, so not fully open to the public (everything you say is still 'public' to Facebook's profiling and advertising back-end!), and it's actively moderated by a significant group of well known community members. I'm also an admin at the TC-Cancer.com web forum. These are the only two groups I recommend.
Facebook Global Testicular Cancer Awareness and Support Forum
TC-Cancer.com Web Forum
Between the two, I would strongly recommend signing up at the TC-Cancer.com forum, and ditching social media entirely for this. It can be a little clunky and slow, but unlike Facebook, it's completely private due to the fact that you can sign up anonymously, and nobody on this forum is scraping every last thing you say to sell you out to advertising giants. Screw that!! Also unlike social media, you can have your own dedicated thread just for your case or concerns along with a signature area to show your history, so it's very easy for people to track everything that pertains to your case, which reduces the odds of misinformation being spread, or bad or inappropriate advice being given. This is cancer — that sorta matters! Even oncologists can make clinical missteps in treating testicular cancer due to its rarity, so how well do you think amateurs such as ourselves are going to fare on social media groups with poor abilities to see specific threads, and no real ability to quickly gather case history for tons of people, some of whom might have similar sounding names or profile photos that just add to the confusion. Good old Web 1.0 forums still have a place in the world, and manage to do more than a few things so much better than social media ever has.
If you're having trouble with the forum, or it went down and you need some answers to something you asked, please contact me ASAP!!! While I don't handle the server side of the forum, I am an admin and am well-versed on TC and can help, or get answers for you if I don't know myself.
Contacting Me (Click the button!)
Please DO contact me for any reason at any time, but do so here directly and NOT on social media! I always love hearing from readers directly that have seen some of my blogs, or somehow found my website in this crazy world. It's great to connect with people from all over.
Life has moved on and evolved considerably for my family and I over the years since my cancer fight, in both good ways and bad, so regretfully I just don't have the time to spend hours surfing social media and testicular cancer related support groups anymore, and answering and providing feedback in most every single thread like I used to. Believe me when I say it's not because I don't care — our lives just keep getting busier and more complicated is all, and there just isn't the time. All you really need to know is that I had to turn over my beloved BMW convertible to my wife, which we bought when I was going through chemotherapy, and that I'm driving a Chevy (freaking) Suburban these days, to understand that I typically have my hands full. Lol!
That's It!
Thanks for stopping by and for checking out my new About page. Please enjoy the rest of my website and my writing, and definitely get in touch if you'd like. The rest below is my boilerplate website bio. :)
Best,
Steve Pake
Steve Pake is now 41 years old and is happily married to his wife Debbie of 15 years, who is the one thing that's ever made any real sense in his life! They reside in Rockville, Maryland and have two children together aged 12 and 10, and an adorable mini Goldendoodle. Steve is an Electrical Engineer and holds a Masters Degree in Electrical Engineering from Johns Hopkins University, and is also a Penn State alumni. Steve's website, "Young Adult Cancer Survivorship by Steve Pake", was awarded as a Top Cancer Blog of 2016 by the IHadCancer.com community. In addition to IHadCancer.com, Steve's blogs also appear at The Mighty, Cure Today, and at the Cancer Knowledge Network. Steve was the Co-Founder and Chair of the 2017 Testicular Cancer Summit event, and has also been interviewed by national news media about cancer survivorship issues.